Event Calendar
Main Content Region
This is the main content region. The default content contains some tips for editing content. To remove the default content, perform the following key combinations:
On Windows: Ctrl + A (select all), and then Delete (delete selected).
On Mac: Cmd + A (select all), and then Delete (delete selected).
Content Type
Use the Element Dropdown to set the type of content for the current block.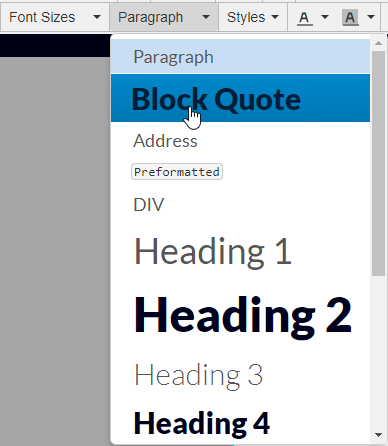 You can create block quotes using the dropdown as well as change heading levels.
Insert/Edit and Style Images
Add an image via the

button on the toolbar.
The image interface allows you to apply a custom class to the image. Choose a pre-defined class from the dropdown or enter custom classes by hand.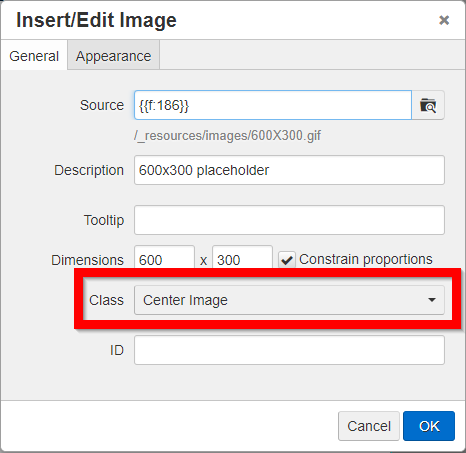 Stylable Snippets
Some snippets are made to support some styling customization. Carefully read the description and helper text on each snippet to identify which snippets support styling customization.
See below for one example. The below tab snippet supports background-color customization. Follow the steps below the table for setting the color of the tabs to green.
Access the Table Properties interface in 2 ways:
The toolbar button:
Right click the table:
Then, set the appropriate class for the tab snippet: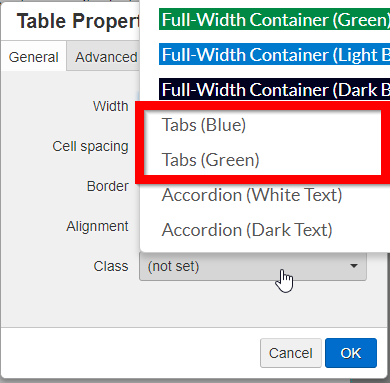 Apply the changes, save, and preview the transformed tabs.
Masonry Gallery
Drop a gallery asset on the page to create a pop-up gallery.